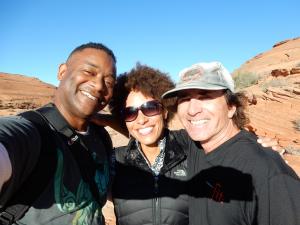 This is our second trip to Page Arizona but by far our best and that is due entirely to Terry Moore Bio FB. We have the privilege of staying with Terry as house guest during our adventures in Page. Terry was a Hollywood animal trainer and stunt double for over 30 years and most recently worked with the show Man VS Wild as a survival and wild animal consultant. In his past Terry has also owned two of the top 10 adventure lodges in the country. All accolades aside Terry is full of information regarding survival in the wild and the off the beaten path secrets in this part of the country.


Our foot prints have been the only ones we've seen on all of our hikes (about 10 miles today) we even explored an area that was new to him today.
We couldn't be happier with our hiking experience thus far.


As a bonus his house is filled with exotic snakes, various reptiles and Toya's favorite Rascal the ferret. We can only hope that he invites us to his place in Costa Rica once he gets settled. In the mean time if your looking for an off the beaten path adventure Terry is your man Please take a minute to browse through the galleries to see some of the incredible places Terry shared with us.